Free Shipping on Orders over $45. Orders less $4.95 charge.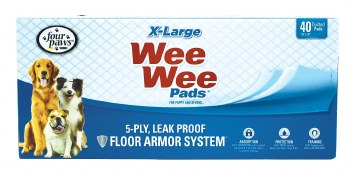 Wee Wee Pads XLarge 40Pack
Item Number: 045663016494
See other items by FourPaws
$39.99 $29.99
Quilted for absorbency and scientifically treated to attract dogs when nature calls. Extra Large Wee-Wee Pads are 8% larger and more absorbent than the average housebreaking pad! Measuring 28x34, these pads are perfect for large breeds or households with multiple dogs.