Free Shipping on Orders over $45. Orders less $4.95 charge.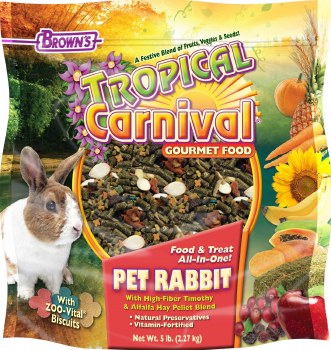 Browns Tropical Carnival Pet Rabbit Food And Treat All In One 5lb
Item Number: 042934447230
See other items by FMBrowns
$14.99 $11.99
Tropical Carnival Rabbit Food

*A Festive Blend Of Fruits Nuts and Veggies That Is A Food and Treat All In One

Ingredients:
Alfalfa meal wheat ground oats soybean meal grd. Barley oats groats corn papaya kibbled corn wheat green peas raisins banana potatoes peanuts pumpkin seed carrots lentils pineapple apples soybean meal corn gluten meal soy oil.