Free Shipping on Orders over $45. Orders less $4.95 charge.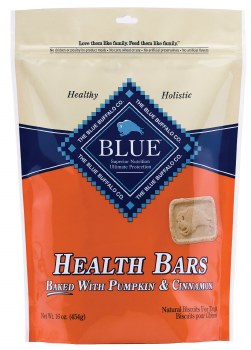 Blue Buffalo Health Bars Baked with Pumpkin and Cinnamon Dog Treats 16oz
Item Number: 859610005109
See other items by BlueBuffalo
$6.99 $5.99
Baked With Pumpkin and Cinnamon

Tasty and healthy — BLUE Heath Bars are the perfect complement to your dog's wholesome diet.

Natural BLUE Health Bars feature delectable flavors and crunchy textures your dog will love munching away at — while they're helping to clean his teeth, too.

Made with wholesome whole grains and nutritious vegetables
BLUE Health Bars are also oven–baked for old–fashioned goodness.

Fortified with Omega 3 fatty acids and important antioxidants
These ingredients help a dog maintain a healthy immune system.

Contains no corn, wheat or soy
These ingredients have been linked to allergies in some dogs.