Free Shipping on Orders over $45. Orders less $4.95 charge.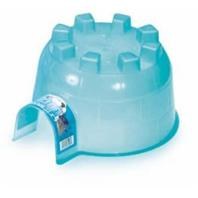 Mini Igloo
Item Number: 045125604047
See other items by KayteeProducts
$4.99 $3.74
Mini Igloos come in four cool colors and theyre made of translucent plastic so you can see your pet inside its Igloo even when your pet thinks its hiding! Igloos are constructed from durable plastic making them easy to clean plus theyre odor and stain resistant. Igloos one piece design is easy to use and every Igloo has fresh air vents to ensure your pets health and well-being. Mini Igloos make a "Cool" hide-out for hamsters gerbils pet rats and other little critters."