Free Shipping on Orders over $45. Orders less $4.95 charge.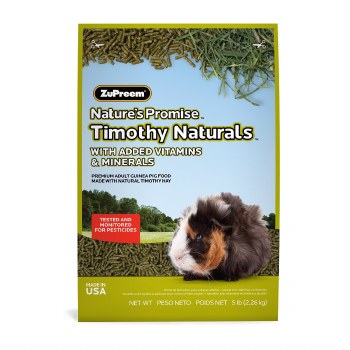 Zupreem Guinea Pig Food 5 Lbs
Item Number: 762177970509
See other items by Zupreem
$12.99 $10.39
Premium Guinea Pig Food

The Best Wholesome Nutrition For Adult Guinea Pigs
No Soy
No Wheat For Healthier Digestion

Ingredients:
Sun-cured timothy grass hay, ground corn, corn gluten meal, dried beet pulp, dicalcium phosphate, dextrose, calcium carbonate, flaxseed meal, salt, brewers dried yeast, ground veg;. Carrots, celery, beets, parsley, lettuce, watercress and spinach.