Free Shipping on Orders over $45. Orders less $4.95 charge.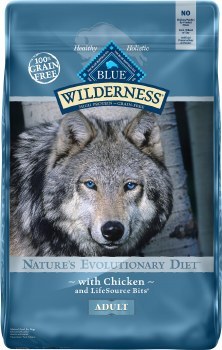 Blue Buffalo Wilderness Chicken Recipe Grain Free Dry Dog Food 24lb
Item Number: 840243105342
See other items by BlueBuffalo
$53.99
In-store price:
$53.99
$48.99
Blue Buffalo Wilderness Chicken Recipe Grain-Free Dry Dog Food is formulated to mirror the diet of ancestral wolves, with tons of protein, just the right amount of carbohydrates, and plenty of antioxidant-rich fruit. It includes exclusive BLUE LifeSource Bits — a precise blend of antioxidants, vitamins and minerals — to support immune system health, life stage requirements and healthy oxidative balance. This powerful recipe is specially crafted to support your dog's overall health and well-being.

Calcium, phosphorus and essential vitamins help promote strong bones and teeth, glucosamine helps support joint function and overall mobility and Omega 3 & 6 fatty acids helps promote a shiny coat and healthy skin.
Sweet potatoes, peas and potatoes provide healthy complex carbohydrates and blueberries, cranberries and carrots support antioxidant enrichment.
Essential proteins and carbohydrates help meet energy requirements for a healthy lifestyle and essential vitamins, chelated minerals and important antioxidants help support the immune system.
Deboned chicken, chicken meal and turkey meal supply the protein your dog needs to help build and maintain strong muscles.
Made without grains, and contains no artificial preservatives, colors or flavors.