Free Shipping on Orders over $45. Orders less $4.95 charge.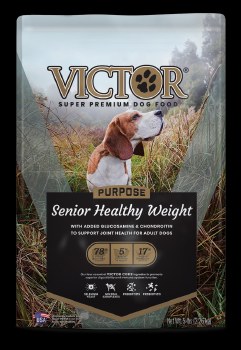 Victor Select Senior Healthy Weight Dry Dog Food 15lb
Item Number: 854524005153
See other items by Victor
$25.99
In-store price:
$25.99
$22.99
Usa sourced Beef meal, chicken meal, pork meal Guaranteed levels of omega 3 & 6, vitamin E Made in the USAMost of the "Senior" and or Weight management diets found on the market are most often promoted as "Low Calorie" or "Light" diets. AAFCO defines a food labeled as such to contain energy levels not to exceed 3100 ME kcal/kg . Most of the foods you will find on the market with this claim are very low in both Protein and Fat. What they don't advertise to the dog owner is how many carbohydrates the food contains. Relating this back to human nutrition for a moment, this would be like us trying to lose weight eating a daily diet of Pasta. Sounds crazy, yet, this is exactly what dog owners are doing every single day they feed these "Light" foods to their overweight dogs.