Free Shipping on Orders over $45. Orders less $4.95 charge.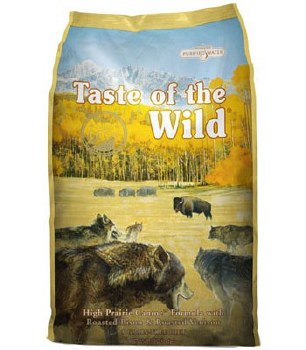 Taste of the Wild High Prairie Grain Free Dry Dog Food 30lb
Item Number: 074198613953
See other items by TasteOfTheWild
$47.99 $42.99
with Roasted Bison & Roasted Venison

* For All Life Stages
* Grain-Free
* Roasted Bison and Roasted Venison
* Optimal Amino Acids
* Antioxidants
* Omega Fatty Acid Blend
* Digestive Support System
* Sweet Potatoes
* Berry Blend
* Tomatoes & Tomato Pomace
* No Corn, No Soy
* Chelated Minerals

A grain-free formula for all life stages with sweet potatoes and peas provides highly digestible energy for your active dog. Made with real roasted meats, this formula offers a taste sensation like no other. Supplemented with fruits and vegetables, this hearty formula delivers natural antioxidants to protect your friend's body from the damage of everyday living, supporting a healthy immune system and overall good health. Your dog craves a taste of the wild. Go ahead and give him one.