Free Shipping on Orders over $45. Orders less $4.95 charge.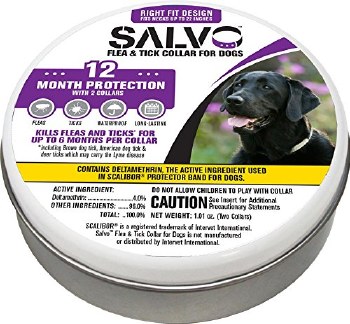 Salvo Flea And Tick Collar Large 6 Month Protection 2 Pack
Item Number: 859837005081
See other items by Durvet
$24.99 $19.99
Size:Large
Salvo Flea and Tick Collar for Dogs contains deltamethrin insecticide that is specially formulated using insecticide release technology. Fleas on the dog will be killed and ones which are present in the dog's environment that may appear on your pet will be killed. Collar will also kill ticks for up to 6 months, including Brown dog tick, American dog tick and deer ticks which may carry Lyme disease. This collar should be worn continuously and reapply a new collar every 6 months. Salvo Flea and Tick Collar for Dogs is water-resistant so its insecticide benefits will not be diminished. For best results, the collar should be worn year-round.