Free Shipping on Orders over $45. Orders less $4.95 charge.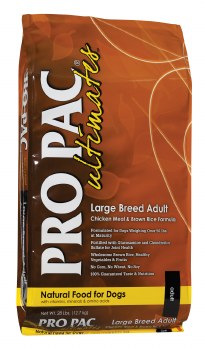 Pro Pac Ultimates Chicken Meal and Brown Rice Large Breed Adult Dry Dog Food 28lb
Item Number: 034846597004
See other items by ProPac
$34.99 $31.99
Pro Pac Ultimates Chicken Meal & Brown Rice Large Breed Adult Dry Dog is scientifically formulated to meet the special needs of large breed dogs. Using a precise balance of protein, fat and carbohydrates as well as glucosamine and chondroitin sulfate, this formula helps maintain joint health and support your large dog's overall well-being. This antioxidant-rich food is also fortified with vitamins A and C along with nutrient-packed fruits and vegetable like apples, blueberries, carrots and spinach, which contain natural fiber to help with overall digestion.

Nutritionally balanced formula for adult dogs weighing more than 50 pounds at maturity. It's been formulated without common allergens like corn, wheat, or soy so it's a great choice for pets that might have ingredient sensitivities.
Real chicken meal is the #1 ingredient and balanced omega fatty acids support healthy skin, hair coat and immune system. Added L-Carnitine helps your pet burn fat and maintain lean muscle mass.
Antioxidants and fibers from beets, blueberries, and cranberries play a vital role in long term health and support a healthy digestive tract. Formulated with chelated minerals to allow for higher absorption of these key minerals.
It's fortified with glucosamine and chondroitin sulfate to support happy and healthy hips and joints. The crunchy kibble helps to clean your pet's teeth and freshen their breath with every bite.
Made in the USA!