Free Shipping on Orders over $45. Orders less $4.95 charge.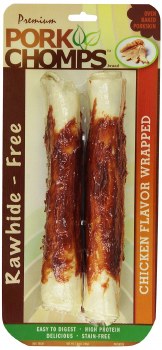 Premium Pork Chomps Chicken Flavor Wrapped Rolls Dog Treats 8 Inch roll 2 pack
Item Number: 015958978103
See other items by PorkChomps
$11.99
Keep your pet happy and satisfied with this tasty treat that is made from pigskin and chicken and will keep your dog looking forward to snack time each day. Your 4-legged friend will love sinking his or her teeth into this Premium Pork Chomps Chicken Wrapped Rolls. The treat is made from pigskin and real chicken to offer a savory, mouthwatering flavor.