Free Shipping on Orders over $45. Orders less $4.95 charge.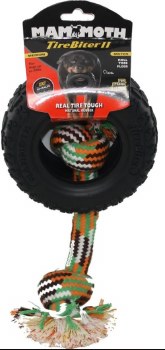 Medium Tirebiter II w/Rope 5"
Item Number: 746772350102
See other items by Mammoth
$10.99 $8.24
Medium 5" Tirebiter II with Rope. Mammoth Tirebiter II toys are made from a NEW advanced natural rubber formula for EXTRA long lasting play. Designed and developed in the USA and sustainably manufactured in our North American factory from USA materials the Tirebiter II toys are made using a progressive chew system whereby as the the size is made larger they will exponentially gain strength. Perfect for your dog's different growth stages. Pound for pound Tirebiter II is the toughest dog toy available. These real-tire-tough favorites are excellent for interactive playing, tossing and tugging by creating hours of positive play experience between dog and owner.