Free Shipping on Orders over $45. Orders less $4.95 charge.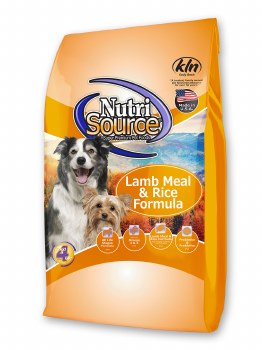 Nutrisource Lamb Meal and Rice Formula Dry Dog Food 30lb
Item Number: 073893266020
See other items by Nutrisource
$52.99
In-store price:
$51.99
$46.99
NutriSource Lamb Meal & Rice Forumula provides super premium nutrition in a scientifically formulated, easy to digest food. NutriSource uses the finest quality ingredients including New Zealand lamb meal as the primary source of protein and high quality rice as the primary cereal carbohydrate ingredient. NutriSource Lamb Meal & Rice Formula contains no corn, wheat or soy. By limiting the protein and carbohydrate sources there is less chance of digestive upset.

Suitable for all life stages
Probiotics & Prebiotics
Balanced Omega 3 & 6 with DHA
With added vitamins & minerals
Highly digestible for maximum nutrient absorption
100% compostable packaging, does good 4 the earth!
Made no wheat, no corn, no soy
Made in the USA!