Free Shipping on Orders over $45. Orders less $4.95 charge.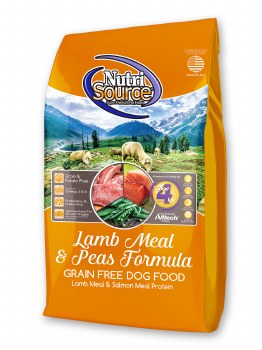 Nutrisource Grain Free Lamb Meal and Pea Formula with Salmon Meal Protein Dry Dog Food 30lb
Item Number: 073893291008
See other items by Nutrisource
$58.99
In-store price:
$52.99
$48.99
NutriSource Grain Free Lamb - Lamb meal is the #1 ingredient in NutriSource Grain Free Lamb, which provides super premium nutrition for your dog. The grain and gluten-free formula is easy on digestion and features the NutriSource exclusive "Good 4 Life" system and is made with the finest quality pure ingredients available. Made with peas, a low glycemic legume, also a great source of protein, fiber, and the essential amino acid lysine. Peas supply complex carbohydrates, vitamins A and C, iron and beneficial fiber to support digestive function

Made for all life stages
Grain and Gluten-free formula
Sel-Plex, a highly bioavailable selenium source
Probiotics & Prebiotics
Balanced Omega 3 & 6
With added vitamins & minerals
Highly digestible for maximum nutrient absorption
No corn, no wheat, no soy
Made in the USA!