Free Shipping on Orders over $45. Orders less $4.95 charge.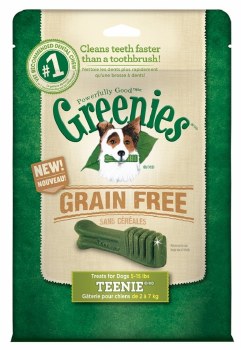 Greenie Grain Free Teenie 12oz
Item Number: 642863104596
See other items by Greenies
$16.99
Teenie Grain Free Greenies 5-15lb 43 Count. Help keep your pet healthy and happy with Greenies Natural Pet Treats. Each treat has a unique shape and crunchy texture to help clear away plaque and tartar buildup with every bite. Pet parents can feel good about giving their Greenies. These treats are meant to be given daily to help strengthen the bond between pet and pet parent. Each treat is also nutritionally balanced to provide the complete nutrition pets need to maintain good health.