Free Shipping on Orders over $45. Orders less $4.95 charge.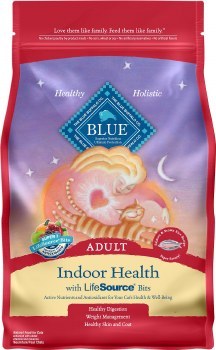 Blue Buffalo Indoor Health Salmon and Brown Rice Recipe Adult Dry Cat Food 7lb
Item Number: 859610000241
See other items by BlueBuffalo
$22.99
In-store price:
$22.99
$19.99
Feed your kitty the balanced nutrition of the Blue Buffalo Indoor Health Chicken & Brown Rice Recipe Adult Dry Cat Food. Made with real salmon as the first ingredient along with wholesome brown rice and superfoods like cranberries, blueberries, blackberries, spinach and more, it packs complete nutrition into every bite without piling on the calories. It's loaded with LifeSource Bits?a unique blend of vitamins, minerals and antioxidants to support immunity?plus omegas, taurine and essential amino acids so it provides all the nutrients your pal needs to explore the great indoors. Plus, it helps maintain healthy digestion for happy tummies with probiotics and prebiotic fibers in every bite.

Indoor recipe starts with protein-rich salmon as the first ingredient to support healthy muscle growth and development.
Packed with omegas, amino acids and LifeSource Bits?an exclusive blend of antioxidants, vitamins, and minerals?to support a healthy immune system and overall well-being.
Helps maintain an ideal weight for less active indoor cats with balanced calories from proteins and fats, and health-boosting probiotics and prebiotics.
Loaded with taurine?an amino acid essential to kitty health?to help support eye and heart health, and superfoods like blueberries, cranberries, kelp, turmeric and more.
Made in the USA with zero by-product meals, corn, wheat or soy, so it's great for kitties with food sensitivities or allergies.