Free Shipping on Orders over $45. Orders less $4.95 charge.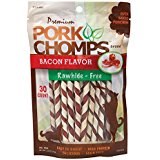 Bacon Mini Twistz 30Ct
Item Number: 015958973856
See other items by PorkChomps
$2.67
Baked pork skin enhanced with flavor strips.
Satisfy the instinctive need to chew.
They also clean teeth and do not stain.
Pork skin has a natural flavor that is highly appealing to dogs.
Safer to chew and more easily digested.