Free Shipping on Orders over $45. Orders less $4.95 charge.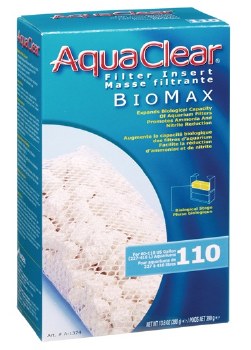 Aqua Clear Bio Max Filter Insert 60-110 Gallon
Item Number: 015561113748
See other items by AquaClear
$13.99 $11.19
AquaClear 110 BioMax Filter Insert provides an optimal environment for the colonization and growth of beneficial bacteria, which is essential for effective biological filtration and water purification. BioMax's complex bio-ring pore structure allows beneficial, toxin-reducing bacteria to thrive. By reducing toxins such as ammonia and nitrite, BioMax effectively increases biological filtration efficiency by 30%. Exclusively designed for the AquaClear 110 Power Filter, BioMax is suitable for fresh and saltwater aquariums. BioMax comes in a mesh bag for quick and easy installation. Net Weight: 390 g (13.8 oz).