Free Shipping on Orders over $45. Orders less $4.95 charge.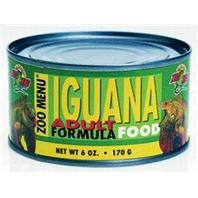 Adult Iguana Food 6 oz
Item Number: 097612400656
See other items by ZooMedLab
$3.19 $2.55
Our most popular canned food. Contains ingredients such as apples and carrots, with a natural flavoring agent and bright color to entice iguanas to feed. Both Juvenile and Adult formulas have a cross over application and can occasionally be fed to other reptiles such as box turtles, tortoises, blue-tongue and prehensile-tailed skinks, water dragons, bearded dragons, hermit crabs, etc. The main difference between formulas is the protein levels. The Juvenile formula has a higher protein level for proper bone development in young iguanas.